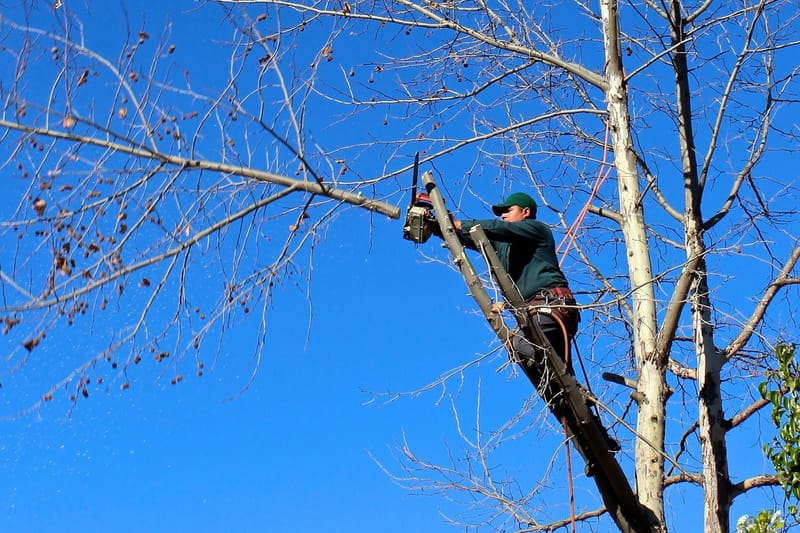 Need Quality tree trimming, pruning or removal service?
Quander & Son
is
"Here to lend a leg."
Serving the entire Morongo Basin!
Tree trimming, pruning and removal is among the professional services provided by Quander & Son.
We have liability insurance, and practice protecting our customers' property by doing the job correctly!
OUR CREW
We hire and train only the best candidates. Our employees respect your home/business. Having the best equipment is worthless without people who have the skill and experience to use it properly. We guarantee our crew are experts who work safely.
Our team includes experienced professionals and equipment to serve our customers right. Our employees understand the high value we place on customer satisfaction. This approach to client service has helped Quander & Son build an impressive customer following. Businesses and Homeowners call us back when they need tree trimming or any of our general labor services throughout the Morongo Basin.
OUR CUSTOMERS
Customers have individual needs, and each job is distinct. When you call us we send trained specialists to provide you the best estimate. Our representatives evaluate your project from the standpoint of taking care of your needs while also addressing the needs of the tree.
Put your tree in our caring hands.
Before After
Price
We know that price plays a huge role in selecting a company to help you with your tree service project- Quander & Son is not always the cheapest, but we aim to be the best.
Does that mean we are overpriced? No, in fact we are usually the lowest bid, just not always. Even at our competitive rates, our service is not diminished in any way.
Quander & Son is better and more efficient than most of the other tree services around. We do the same work better and in less time. Our history of an accident/injury free work environment has helped us get our insurance rates well below the norm. All of this helps us provide you with good service at an affordable rate. Allow us to quote your next tree trimming project.
Always on Time, Promises Kept
On the scheduled day, our crew arrives on time and starts working. Our crew consists of a primary cutter with 2 to 4 ground-service crew members. Equipment will be located nearest the tre; vehicles will be parked as directed by the client.
We guarantee that when our team leaves, the area around the eliminated tree will appear as if we were never there.
We consider the job finished only when our customer is satisfied. We will leave the site with your signature of approval.
Allow us to quote your next project.
Our happiest customers allow us to give their trees annual attention. We recommend this for the health of the tree. The trees receiving our care on a regular basis display beautifully. It is affordable to keep a tree healthy through regular maintenance, instead of waiting for years, as it will be much more costly.
Addressing the issues that arise from unhealthy trees is expensive at times and sometimes your only option will be tree removal. It is best to get your trees looked at before they become unhealthy or need drastic trimming services.
Why keep putting it off?
You want beautiful trees. You deserve to have them. Call us to find out why people put their trees in our hands.

What we do:
Trimming
In order for trees to be strong and survive in their environment, they need trimming and shaping.
In some cases trees need help growing the direction people need them to, while in other cases trees encroach on a neighbor's land, perhaps even posing a safety hazard.
Whatever the reason, Quander & Son can trim your tree.

Tree Pruning
What is tree pruning? Directing the growth by slowing the branches you don't want; or to slow "dwarf" the development of a tree or branch.
Tree pruning should be done soon after seasonal growth is complete. The reason for pruning is that you reduce the total leaf surface, thereby reducing the amount of food manufactured and sent to the roots. Another reason to prune is for corrective purposes.

Tree Removal
Trees should be removed for a variety of reasons:
Danger to PROPERTY or PERSONS

VISUAL APPEAL of property

Diseased, sick tree
As part of the estimate, our tree removal service involves fully falling the tree, wood eliminated, limbs and branches hauled or chipped, and a comprehensive clean-up of your property around where the tree was taken down.
Got tree stumps?
-Unsightly, problematic for lawn care, infested with multiple types of pests-
but nothing is permanent.
Quander & Son utilizes top caliber machinery and the most qualified staff to extract any stump. (We also have "boom bucket trucks" for high tree trimming.)
Call our Customer Service agent for more information and to schedule an estimate:
888-243-7377